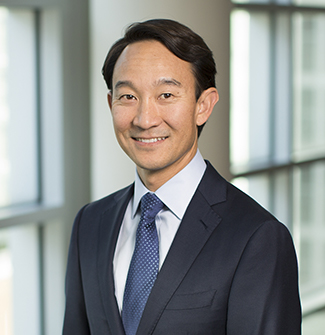 Darren S. Teshima
Partner
San Francisco
Darren Teshima helps clients through complex commercial litigation, with a special focus on intelligent risk mitigation. From providing counsel to safeguard against anticipated and unforeseen dangers to handling high stakes litigation, clients turn to him for creative solutions to protect their businesses. Chambers USA 2021 quotes clients praising him for being "collaborative and a strong negotiator." Darren's Insurance Recovery clients are exclusively policyholders. They seek his advice to pursue claims and help them improve their coverage programs.
Darren's proactive judgement has protected clients' long-term business goals time and again. He serves as a true business partner to technology and financial services clients, working closely with in-house risk management and legal departments to tailor innovative strategies to maximize available insurance and indemnification coverage. Industry leaders rely on Darren to guide them through the cutting-edge issues they're facing today, from D&O coverage on SPAC transactions, to reps & warranties and indemnification coverage in agreements and transactions, to E&O and cyber coverage related to data breaches.
When litigation is necessary, Darren helps clients assert their rights. He has successfully litigated high stakes commercial disputes with significant wins in connection with insurance coverage, D&O coverage, and cyber insurance for some of the largest data breaches in history.
Darren has been recognized for his work on behalf of insurance policyholders by Legal 500, Chambers USA, and has been named a Law360 Rising Star, as well as one of the "Best Lawyers Under 40" by the National Asian Pacific American Bar Association.
Darren is a leader at Orrick, currently serving as co-leader of Orrick's Diversity, Equity and Inclusion Initiative, and previously as deputy, co-leader and leader of the Complex Litigation and Dispute Resolution practice from 2016-2020. He is passionate about making the legal profession inclusive for all and takes an active role in D&I industry engagements, including as a fellow in the Leadership Council on Legal Diversity and participating in the Diversity in Law Hackathon.
Darren also is deeply committed to pro bono work and community involvement. He's handled administrative trials and hearings on behalf of asylum seekers and low-income tenants and provided litigation advice to nonprofit organizations. For his efforts, Legal Services for Children honored him with the Pro Bono Advocate Award twice. Currently, Darren is the chair of the Asian Americans Advancing Justice – Asian Law Caucus, and serves on the board of Legal Services for Children.
In 2012, Darren spent three months on loan to the San Francisco District Attorney's Office as an Assistant District Attorney, where he first-chaired four criminal jury trials to verdict.
Posts by: Darren S. Teshima
It seems we can't find what you're looking for. Perhaps searching can help.