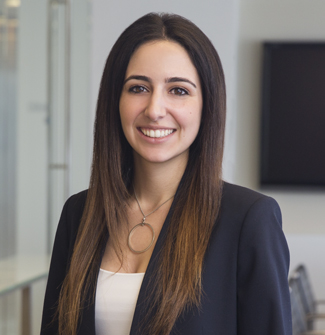 Natalie Nahabet
Senior Associate
Los Angeles
Natalie Nahabet is a Senior Associate in Orrick's Los Angeles office and a member of the Complex Litigation & Dispute Resolution group. She focuses her practice on complex business litigation and provides advice on tactical solutions to the problems faced at all stages of litigation by industry-leading clients in the manufacturing, technology and financial sectors.
Most recently, Natalie first chaired an arbitration where she successfully defended Microsoft Corporation in a matter involving the permanent suspension of a Skype user claiming millions in damages.
Natalie's experience covers a broad range of matters, including civil litigation, mass tort and product liability, financial institutions and tech companies.
Some of her notable engagements include:
Representation of a Fortune 500 company in an investigation by the Securities and Exchange Commission into compliance with Bank Secrecy Act reporting requirements.
Representation of Johnson & Johnson in product liability cases relating to Johnson's Baby Powder.
Acting as a member of the Orrick team representing Union Carbide Corporation (a wholly owned subsidiary of The Dow Chemical Company) as counsel in asbestos litigation.
Acting as a member of the Orrick cross-office team in the defense of Chinese companies and their products against American consumer claims.
Represented a municipal official in connection with an SEC enforcement action in federal court. After hard-fought litigation, the SEC agreed to voluntarily dismiss its claim against the official.
Representation of an apparel company in an arbitration involving a contract dispute and shareholder derivative claims.
Obtained a complete victory for Microsoft and one of its employees with a ruling granting their motion for judgment on the pleadings without leave to amend in a trade secret misappropriation lawsuit against Cheap Stuff.
Successfully defended Microsoft in a consumer arbitration relating to services provided via the Microsoft Help Desk.
Settled heavily contested breach of contract claims and counterclaims involving an exclusive distributorship agreement for a premier traffic signal manufacturer.


Natalie is also active in pro bono matters involving family law disputes. Most recently, she helped a young victim of domestic violence pursue a restraining order against her abusive husband.
Posts by: Natalie Nahabet
It seems we can't find what you're looking for. Perhaps searching can help.